New Leader Spreaders
All of our products are built around quality and technology. The New Leader G4 spinner spreader revolutionized the crop nutrient application industry with its wide, consistent spread pattern. Other products such as the MultApplier and MultiBin add-on hoppers allow simultaneous spreading of up to four products, further increasing your return-on-investment.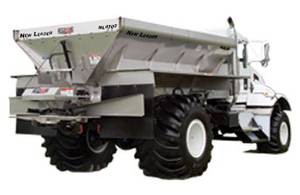 The Edge features precise boundary spreading so you can apply material right up to a boundary line. The machine features increased gate openings and with the Edge with MultApplier insert you can reach higher rates, application speeds and widths. The MultiBin is also available for spreading up to four products in one pass.
The Edge is equipped with an ISOBUS system for easy "plug and play" for standardized connections, cables and software for use with any compatible controller. The system was built using precision manufacturing with laser cutting tech and slot and tab design, which gives the Edge self-centering components such as the spinner frame, material divider and hillside divider.  Precise boundary spreading is a key feature of the NL4500 G4 Edge from Highway Equipment Co.
An upgraded hydraulics system has been developed to support independent spinner speed control for boundary spreading, fast and exact conveyor control and an automatic chain tensioner and the Edge comes standard with automatic lubrication alerts.
Learn more about the G4 technology by visiting highwayequipment.com.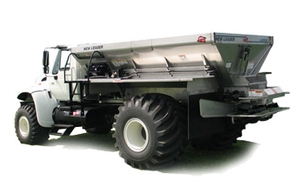 New Leader® L4000G4 is a culmination of the best of the best! The design of the L4000G4 provides modular hydraulic packages to suit your spreading needs, plus the ability to add a second, third or fourth bin at any time with the addition of the MultApplier or MultiBin.
Designed for flexibility and low maintenance, the L3030G4 crop nutrient applicator is the ultimate fertilizer and lime spreader. Spread fertilizer rates as low as 50 lbs. to as high as 1,100 lbs. and still achieve effective spread patterns up to 90 feet. You can even spread up to 2 ton rates of ag lime at 12 mph with spread widths up to 60 feet.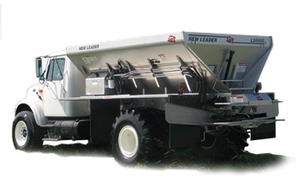 The New Leader® L2000G4 is your reliable and affordable single-bin spreader for applying high rates of fertilizer and low rates of lime. This combination spreader features laser-cut manufacturing with a 304 stainless steel body and upgraded components for straight, semi-float, and full-float trucks.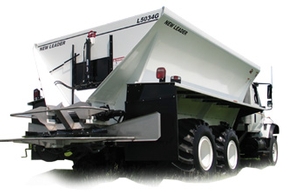 The New Leader® L5034G4 is the best built and most versatile compost spreader in the industry. Its superior features allow you to cover more ground in less time - while maintaining an accurate spread pattern - to make your business more profitable than ever.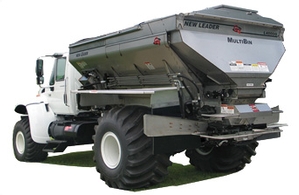 The MultiBin Fertilizer & Micronutrient spreader increases efficiencies and reduces operation and maintenance costs by consistently broadcasting materials from three or four bins, independently or together, for straight and variable rate applications.
We offer Pull-Type Spreaders in Single Axle or Dual Axle
Linco Precision Pull Type Spreader