Precision Equipment - Used and Overstocks
Pictures for Parts with no Pictures available upon request
24 used Flo Rite seed firmers and brackets with hardware. Were on a 24 row JD 1770NT planter. Took off because added furrowjet. They were used for 2 years at 2,000 acres a year on the 24 row planter. Selling all 24 for $200
Used 53059-28 Ez Steer bracket with the 3 10mm bolts to mount it. Selling for $100
24 Used Dickey John High Rate sensors and bullseye seed tubes. Came off of a John Deere 1770NT planter because upgraded to speedtube. $25 each if not buying all 24, or $550 for all 24
Bought and put on a planter but did not use because the middle rows did not work. The hardware kit is a PN 140010-01 and it is for a JD maxemerge unit chain and sprocket drive without the heavy duty JD springs. The Clutch is PN 89169-01. I have 12 available and am selling all 12 rows clutches and hardware kits for $275 a row ($3,300 for all). New price for 12 rows is $4,200.
Used Nav2 octopus cables and sonalert. Was used on an aftermarket system but moved Nav to a CNH tractor so do not need. $225
Parts off of a JD 36 row 20" DB60 planter.
1 of PN 727111 15' Hydraulic Motor Harness= $75 each
1 of PN 727156 Harness, Clutch Merger DB60 36 Row 20" (13-10-13) & DB66 36 Row 22"= $200
1 45 foot smart connector 4 pin harness= $50
1 20 foot smart connector harness= $40
3 JD hydraulic drive motors. They were controlled with a 20/20 and rowflow so all 3 motors have a pressure sensor but on 2 of the motors, the connector portion came off. $650 each and buyer pays shipping or pick up.
Martin spiked closing wheels 8 left and 8 right. $20 each and pick up only
Had furrowjet on planter but upgraded to conceal. Found these spare furrowjet parts. Never used. Essentially PN 141000 Furrowjet assembly, 141061 medium manifold assembly and 141038 furrowjet wing kit. Would be good for someone who needs a spare to have on hand. Selling for $80
Used 53059-02 Ez Steer bracket for Case IH MX/STX, New Holland TG/TJ. Selling for $45
New John Deere Part Number PF80818 wiring harness. $100
Used 53059-10 or Case PN 87298113 Ez Steer bracket for a MXM tractor. Does not include the (3) M6x30MM Bolts needed. $70
New Mounts for a 1360 on Kinze planters (except 4900) and White 8000, 6000 series planter without coulter. Selling them because we ordered the incorrect ones for what we needed. Have 22 available. For use with a 1360 Martin floating row cleaner. Selling for $35 each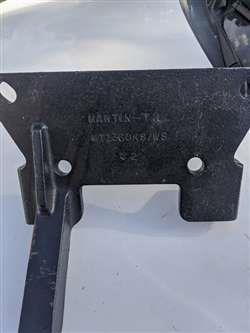 Harness  I had made by Ag Express to hook to power, the GS2, and a generic receiver outputting NEMA. Used to log hybrids. $30
Brand New Ez Steer Bracket (PN 53059-07) for an International Truck. Brand new, ordered for a truck and then did not use. $100
Greentronics RITEDROP Auto Drop Height Controller - RH300-2, Brand new in the box 2 sensors system. System includes Controller, Interface Box, 2 sonar sensors with mounting brackets, sufficient wiring to suit most installations, and an installation and operator's manual, This is no for a sprayer, it is for controlling conveyor height. $2,250
New Trimble Field-IQ Base Kit, PN 80510-55 Seed
Monitoring (CT Style) 24 or Less Rows. JD style Seed Tubes
Sensors. $900
Part Number - Description
76774-05 - Field-IQ Seed Monitoring Module - SMM
75526 - Cable Assy, Rate/section module tee
82536 - Cable Assy, Field IQ to 24 Row Seed Sensor JD Style
New Trimble Field-IQ Base Kit, PN 80510-50 Seed Monitoring (PM Style) 24 or Less Rows. Dickey John Style Seed Tubes Sensors. $900
Part Number - Description
76774-05 - Field-IQ Seed Monitoring Module - SMM
75526 - Cable Assy, Rate/section module tee
82537 - Cable Assy, Field IQ to 24 Row Seed Sensor DJ Style
New PWM Drive and Sensor Adapter Kit, for John Deere
Planter to be used with Field IQ. Kit comes with the following
Part Number Description
82706 Cable Assy, Field-IQ T0 KZ 2-Wire/JD PWM
80539 Cable Assy, Field-IQ To Dickey-john
Encoder/Flowmeter
82744 Cable Assy, Field-IQ To John Deere Vac Sensor
82789 Cable Assy, Field-IQ To John Deere Bin Level Sensor
$200 each, 2 kits available
New 79854 cable for section control only from a Raven 4x00 controller to be used with Trimble FIQ raven replacement kits= $100
New 79854 cable for section control only from a Raven 4x00 controller to be used with Trimble FIQ raven replacement kits= $100
New 700160 Bullseye Seed Tubes John Deere 7200/1700/17X5, Kinze 3000(Year 2012+) selling for $10 each

2 new Precision Planting Vacuum blower mounts. PN 730205 and 730210. 730210 for a JD 7000 Rigid & Wing Fold and KZ, and 730205 for a JD 7000 Front Fold 30' Bar. $40 each

24 new of PN 730456 JD Pro-Series Mini Hopper w/ Smartbox Assembly for a vSet2 meter. $60 each and pick up in El Paso IL or buyer pays freight.

New 725330 seed tube sensor harness for a Kinze 16/31 & 16/32 Row 30" L&T (2600/3600/3650). Selling for $1,200

New 725534 Finish kit for Case IH 12XX - (4-32 Rows) - Universal/600/700. Selling for $380

New 725646 seed tube sensor harness for CNH 1250 24 row 30" front fold with 24 Dickey John style Case IH seed tube sensors. Selling for $2,000 for all.

New 727117 Rowflow RowCommand adapter harness with 35-Pin Deutsch (2009-2011)JD planter. selling for $200.

New 750003 YieldSense Base Kit - Case IH x010, x120, x230, x240 & x250 - Flagship. Selling for $2,970

New 725714 smart connector seed Repeater Module for Gen II Smart Connector. Selling for $120

New 726330 air lift kit for a 36 row planter. Selling for $400

6 of new 726625 Great Plains Smart Pins and Rums, 2 packs. Selling for $200 each

New 727301 rowflow liquid Pressure Sensor $60

New 727302 rowflow liquid pressure sensor harness $20

New 727304 aux extension harness $50

New 727306 rowflow liquid Flow Meter (2-40 GPM) $225