Greentronics designs and manufactures electronic control products for use in agriculture. Since 1994, Greentronics has produced cutting edge solutions for vegetable, potato, and aggregate producers. Their expertise to make the best use of the latest technology, while ensuring that their products are practical and reliable for every day use in farming operations, makes Greentronics the best choice for these industries.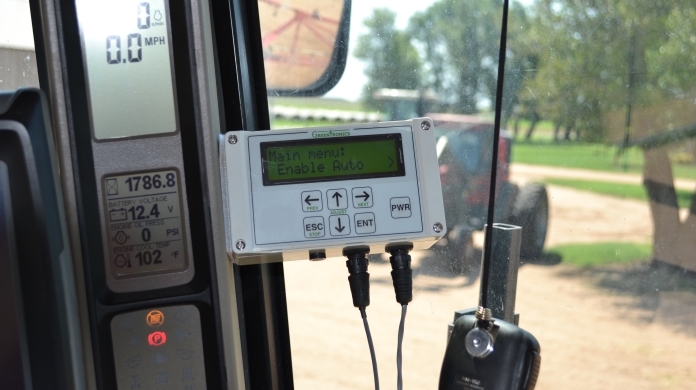 Sprayer Boom Height Control
Easy to install. Only requires the installation of two sensors and simple electrical connections. No hydraulic plumbing required.
Safeguards booms. Minimizes the chance of booms hitting the ground.
Reduces operator fatigue. Automates boom height adjustments.
Better spray quality. Reduces spray drift and improves spray coverage.
Versatile. Maintains consistent boom height above ground or crop canopy (selectable).
Adaptable. Can be installed on almost any pull type or self-propelled sprayer. Service menus are easily accessed on the controller to manually fine-tune calibration settings if needed.
Electric-over-hydraulic. Works with standard electric-over-hydraulic controls, using open-centre or closed-centre hydraulics, and independent or shuttle type solenoid valves.
Easy to use. Engage automatic mode with a single button push.
Simple manual over-ride. Manual over-ride immediately disengages automatic operation.
Reliable. Components are durable and require little maintenance.
Choose from Three Operating Modes for optimum performance and stable operation
• Bare Ground
• Partial Canopy
• Full Canopy
Smart self-calibration
Automatically adjusts to the sprayers' hydraulic performance.