Mid-State Model 8660 Tanks
The Model 8660 round construction and full length stainless sills, 12 ga. shell and 12 ga. heads. Sizes range from 1,600 to 3,300 gallons. Many other shapes and sizes available.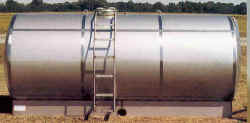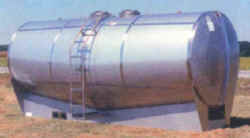 Mid-State Model 8670 Tanks
The Model 8670 tank features round double conical construction for complete drainage. 12 ga. shell and heads with 10 ga. full baffles and stainless steel sills full length. Available in, one, two or three compartments. Available sizes are 1200, 1600, 2000, 2400, 2950, and 3200 gallons.
Mid-State Model 8775 Tanks
The Model 8775 features its "Low Profile" due to the elliptical shape; manufactured only by Mid-State Tank. Capacity available from 1600 - 3200 Gallon.