We are your source for genuine, New Leader OEM parts. And because we don't have to charge for Green or Red paint, we offer some of the lowest prices around! Our knowledgeable sales and service staff can help you with all things New Leader!
All of our products are built around quality and technology. The New Leader G4 spinner spreader revolutionized the crop nutrient application industry with its wide, consistent spread pattern. Other products such as the MultApplier and MultiBin add-on hoppers allow simultaneous spreading of up to four products, further increasing your return-on-investment.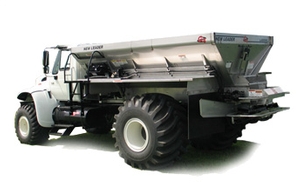 Introducing the L4500 G4 Edge
The Edge features precise boundary spreading so you can apply material right up to a boundary line. The machine features increased gate openings and with the Edge with MultApplier insert you can reach higher rates, application speeds and widths. The MultiBin is also available for spreading up to four products in one pass.
The Edge is equipped with an ISOBUS system for easy "plug and play" for standardized connections, cables and software for use with any compatible controller. The system was built using precision manufacturing with laser cutting tech and slot and tab design, which gives the Edge self-centering components such as the spinner frame, material divider and hillside divider.
Currently in Stock!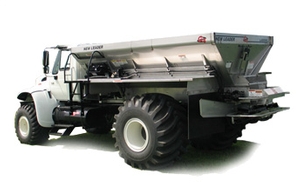 New Leader® L4000G4 is a culmination of the best of the best! The design of the L4000G4 provides modular hydraulic packages to suit your spreading needs, plus the ability to add a second, third or fourth bin at any time with the addition of the MultApplier or MultiBin.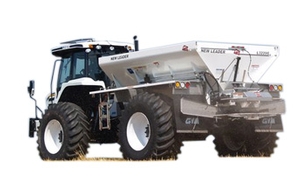 Ideal for fertilizer or ag lime, the New Leader® L3220G4 features a large capacity hopper, allowing operators to broadcast fertilizer from 75 lbs/acre up to 3 tons/acre of ag lime while consistently achieving spread patterns with swath widths from 60' to 105' with fertilizer and up to 60'  with ag lime. A 30" wide heavy-duty #4 belt-over-chain conveyor effectively spreads materials and minimizes bridging. An easy-to-access conveyor drive shaft and bearing make maintenance and tension adjustment simple.
Increase your return on investment even more with the MultApplier. The L3220G4 with the MultApplier insert is a two-bin system with independent conveyors that allow you to simultaneously apply two products at pre-determined rates. Remove the MultApplier, and the main hopper may be used for single or dual product application of fertilizer or lime.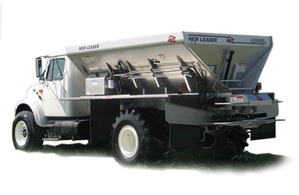 The New Leader® L2000G4 is your reliable and affordable single-bin spreader for applying high rates of fertilizer and low rates of lime. This combination spreader features laser-cut manufacturing with a 304 stainless steel body and upgraded components for straight, semi-float, and full-float trucks.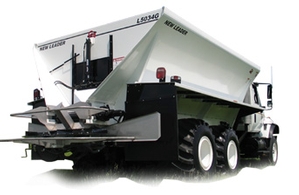 The New Leader® L5034G4 is the best built and most versatile compost spreader in the industry. Its superior features allow you to cover more ground in less time - while maintaining an accurate spread pattern - to make your business more profitable than ever.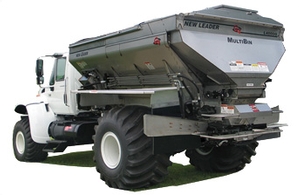 The MultiBin Fertilizer & Micronutrient spreader increases efficiencies and reduces operation and maintenance costs by consistently broadcasting materials from three or four bins, independently or together, for straight and variable rate applications.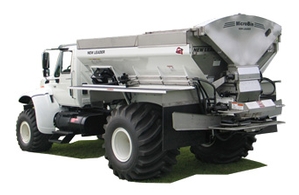 Add value to your existing New Leader® spreader with the addition of a MicroBin micronutrient spreader attachment. The MicroBin is an add-on hopper that allows you to spread granular micronutrients or seeds as a second or third product. Ideal products include zinc, sulfur and seeds such as canola and barley.
Linco Precision New Leader 3220G4 Pull Type Spreader
We offer Pull-Type Spreaders in Single Axle and Dual Axle.
Pull Type Spreader Videos