We offer Pull-Type Spreaders in Single Axle or Dual Axle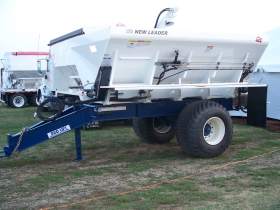 Duo Lift - SA40K – New Leader 12' L2000G4 Spreader Bed
Duo-Lift Mfg. 40,000 Lb. GVWR Capacity Running Gear

Overall Width with Tires installed 108"
12" I-Beam Main Fame, 34" Wide, 48" Frame Height
Axle: 6x6
4.5" Spindles, 1144 CR
10-Bolt Hub on 13.19" BC, 11.007" Pilot
700/20-22.5 Flotation tires, Bias Ply
20,000 Lb. Spring-Assist Static Load Jack, Drop Leg
Clevis Hitch
Safety Chains
LED Light Kit
Paint: Specify Black or D-L Blue
Duo-Lift TD55K – New Leader L3220G4 Spreader Bed
New Leader 12' L2000G4  -  Available in 304SS or 409 Painted
#5 #4 Belt-0ver-Chain conveyor
304 Take-up bearing
Pressurized Oiler with Sight Gauge
Twin 304 24" fan assy.
Dickey John 180 ct. encoder
View Window
Inverted "V"
Hillside Divider
Stainless Steel Fender Group with Stainless steel Angles & Drops
Mudflap kit w/ Stainless steel Hardware Kit
Spread Pattern Test Kit
SGN and Harness Test Kit
Duo-Lift Mfg. 55,000 Lb. GVWR Capacity  Tandem Axle Running Gear*
24'2" OAL / 75" Tongue
I-Beam Main Frame, 48" Frame Height
Leaf-Spring Suspension
4.5" Spindles, 1144 CR
20,000 Lb. Capacity 881 Hubs, 13.19" BC, 11.007" Pilot
Michelin 850/50R30.5 Tires
Bull-Pull CAT 5 Articulating Hitch, (Accepts 2 3/4" Draw Pin)
¾" Safety Chains w/ ID Tag
LED Light Package
* Hitch height needs to be 12"-18".
New Leader 16' L3220G4 – Available in 304 Stainless steel and 409 Stainless steel Painted

#5 Multi-Ply Straight Belt or #4 Belt-over-Chain
102+6 wide body with removable endgate (MultApplier Ready)
#5 Mutil-Ply Straight Belt or 4 Belt-over-Chain conveyor
New leader motorized valve with 180 count encoder
Pulse width modulated (PWM) valve allows in-cab spinner speed control
Pressurized chain oiler with sight gauge
Single 6:1 reduction dual –pinion spur gear drive with two hydraulic motors (high efficiency 98% for lower operational and maintenance costs)
High yield inverted "V" with multiple mounting positions to reduce fertilizer separation and the chance of lime bridging while protecting the conveyor system
Dual 24" diameter, dished spinner distribution system features 304 stainless steel material divider and hillside divider – this package includes upper and lower spinner guards – 304 and 409 stainless steel spreaders receive 304 stainless steel upper and lower spinner guards
40 gallon hydraulic oil reservoir included
126" spinner shields are standard equipment on units with 132" fenders
Spinner speed sensor
Spread pattern test kit
SGN (Size Grade Number) and hardness test kit
Low bin level sensor
Single pressure gauge kit
304SS Take-up Bearing
132" Stainless steel fenders with 304SS angles (304SS bed)
Mudflap Kit
60K BTU oil cooler
HD 1/4"spinner discs
304SS fold-up ladder (for 132" fenders)
Features:
Struck capacity of 345 ft³ (9.77 cu.m) for single bin configuration
High floatation tires leave a light foot print despite massive payload.
16' - 102+6 wide body, available in 304 stainless steel or painted 409 stainless steel
Trailer mainframe with universal bull pull hitch, and four wheel braking system.
Walking suspension, that provides over 12" of travel.
New Leader User-friendly interface
New Leader Controlled Spreader Functions
Factory-Installed Electronics
ISOBUS Ready
Diagnostic Feedback
Automated Service Notifications
Low Bin Countdown
Conveyor System:
30" (76 cm) #4 belt-over-chain capable of spreading Ag lime & fertilizer.
Consistently applies up to 60 ft. (18 m) spread patterns with Ag lime and 90 ft. (27 m) for fertilizer.
24" (61 cm) wide feedgate can be opened up to 11" (28 cm) tall to handle large Ag lime rates.
High output and high capacity come together in the NL345 drawn dry box spinner spreader. For applicators who demand unrelenting performance for spreading ag lime and dry fertilizer, plus a superior return on asset, this machine delivers the flexibility to multi-task tractors for field operations including anhydrous ammonia application, strip-till and side dress application. High flotation tires leave a light footprint despite massive payload.
Advanced High-Capacity Conveyor System
The NL345 delivers smooth, continuous product flow, plus the durability to stand up to tough fertilizer and lime spreading conditions. And for the heaviest lime spreading, a #4 belt-over-chain conveyor incorporates a multi-ply belt over a heavy-duty pintle chain. The NL345 consistently applies up to 60 ft. (18 m) spread patterns with ag lime and up to 90 ft. (27 m) for fertilizer.
Precision Manufacturing:
Self-Centering Spinner Frame and Material Divider
Flip-up Hillside Divider
304 Stainless Steel Cross Tubes and Mounts
304 Stainless Steel Integrated Take-ups
Front, Rear, and Trailer Grease Banks
Advanced Hydraulics:
New Leader Hydraulic Manifold
Automatic Chain Tensioning
System Monitoring
Automatic Oiling Functions and Reminders
MultApplier Ready
Easily convert from single to dual product spreading with the revolutionary MultApplier. Bolted-in end gates and stainless steel hydraulic connections take this optional component to the next level, and make it easy to add or remove.    With the 7 ft. MultApplier installed, the NL345 spreads up to 90 ft. (27 m).  The dual hopper system features two independent conveyors that can simultaneously apply two products at predetermined or variable rates.
| Truck Capacity | Cubic Yards | Cubic Meters | Cubic Feet |
| --- | --- | --- | --- |
| w/o MultApplier | 12.78 | 9.77 | 345 |
| w/7' MultApplier | 7.15 | 5.47 | 193 |
| 7' MultApplier | 5.96 | 4.56 | 161 |
| Estimated Weight | LBS. |
| --- | --- |
| Spreader | 5,202 |
| MultApplier | 1,303 |
| Trailer | 14,600 |
The NL450C, not designed for fertilizer and lime, broadcasts material farther, wider, and more consistently than any other applicator.
Higher payload capacity and greater material output.
Precise record-keeping of environmental material applications.
Get the job done more accurately in less time.
Available in 304SS or 409 Painted Stainless steel, #1 chain with ½" x 1-½" crossbars is standard equipment with the #2 and #3 conveyor chains optional, the extra wide 34" (86cm) conveyor and 50˚side slopes provide better flow of material and increased output, and the 118" (300cm) wide body increases payload capacity for heavy spreading needs. The corrosion-resistant stainless steel conveyor floor prevents material build-up under the conveyor, providing longer service life to the overall conveyor system. Featuring dual 30" (76cm) spinners and tandem hydraulic system to broadcast material faster and farther, and minimize time in the field. the straight rear endgate is set farther into the body, feedgate is hydraulically controlled and comes with a feedgate sight gauge.
Compared to the average compost spreader, spinner power is increased by up to 50% and application rates are increased up to 33% or more.
Dimensions and Capacities
Length: 16'
Struck Capacity~ Cubic yard: 16.7
NEW LEADER NL4560G4 EDGE Large Capacity Drawn Spinner Spreader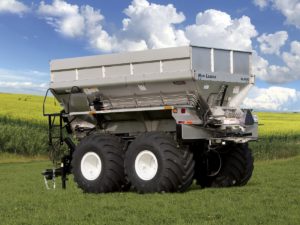 Edge Follows the 4Rs of Nutrient Management
Right Source – Matches nutrients type to crop needs
Right Rate – Matches amount of nutrients to crop needs
Right Time – Makes nutrients available when crops need them
Right Place – Keeps nutrients where crops can use them
The NL4560 Edge continues that tradition with plug-and-play ISOBUS electronics that hook into compatible controllers through standardized plugs, cables and software. It also incorporates the power of diagnostic feedback, automatic service notifications, boundary spreading, a feed gate optimizer, low bin countdown, automatic chain oiler, and it can be expanded to control multiple bins.
This is a machine that makes repeatable, responsible nutrient management possible—with a mobility that's unmatched in the industry. Advanced hydraulics makes it easy to connect and disconnect, so operators can easily put New Leader technology where they want it. More control comes from independent spinner speed and monitoring, plus the capability for boundary spreading of multiple products.
Large capacity (608 ft³) with 24" sideboards
16' - 102+6 wide body available in 304 stainless steel or painted 409 stainless steel
Trailer mainframe with universal bull pull hitch and four-wheel braking system
Walking suspension with over 12" of travel
30" (76 cm) #4 belt-over-chain
24" (61 cm) wide feedgate can be opened up to 11" (28 cm) tall
High floatation tires for light footprint
Precision Application
Spread materials faster, wider and more consistently, even on windy days, with proven G4 variable rate broadcasting technology. Take advantage of dual RPM sensors and pulse width modulation (PWM) valves to maintain precise speed on each individual spinner within 5 RPM. Giving operators the power to apply along a boundary line with the flip of a switch for the most precise nutrient placement for maximum yield potential.
Advanced Hydraulics
Experience fast and exact conveyor control, independent spinner speed control and extended conveyor life with the NL4560's superior hydraulics system. High-tech sensors give operators early insights into potential issues by monitoring hydraulic condition and performance based on metrics including fluid level, temperature, filter restriction and conveyor and system pressure. Multiple test ports make in-field service and diagnostics easier.
Easy Maintenance
The NL4560 is built with the operator in mind – maximizing time in the cab and the field and simplifying maintenance. A flip-up hillside divider lets operators move easily between spreading lime and other products, while maintaining max flow and without getting out a single tool.
Front, rear and trailer grease banks for efficient greasing
Corrosion-resistant 304 stainless steel cross tubes, mounts and take-up brackets
Self-centering spinner frame and material divider
Extend conveyor life
The NL4560 maintains proper chain adjustments with an automatic chain tensioner. Continuous tension helps extend life. In addition, operators receive automatic lubrication alerts after 10 hours of conveyor run time.
Linco Precision Pull Type Spreader