Parkhurst Grain Stake Type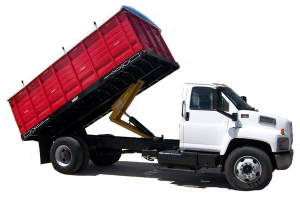 The simple to remove racks make this body quite versatile.  Offering the producer or hauler a flat platform deck during the off season.  Perfect for moving hay, equipment and sundry cargos.
Stake Type Grain Rack Specifications
Lengths: 8', 9', 9'6", 10', 11', 12', 14', 16', 18', 20', 22', 24'
Widths: 96" and 102"
Heights: 42" and 52"
Sides and Front: 42" x 16 gauge and 52" x 14 gauge

Roll formed with integral tarp rail for strength
14 gauge roll formed stakes with 12 gauge liners

Rear: Two wings with center slide in metering gate and bull bar

42" has 10" filler panel
52" has 20" filler panel

Finish: Powder coat gloss red
Parkhurst Grain Stakeless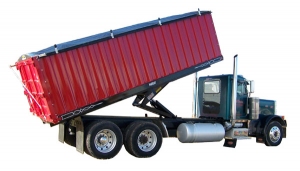 Parkhurst Stakeless Grain Bodies offer durability, strength and larger payloads.  Corrugated panels are one piece, clean flow design with heavy guage tubing top rail.  You can choose between triple and double rear doors with one, two or three metering gates.  Swing out header bar allows forklift access for hauling bagged/skidded material.. Put a Parkhurst Stakeless Grain Body and Parkhurst Hoist on your next grain truck.  You will be glad you did.
Stakeless Grain Rack Specifications
Lengths: 16' to 24'
Widths: 96" standard, 102" optional
Height: 62" standard, 52" on 16' body optional
Front and Sides: 14 gauge material, 5" vertical ribs on 6" centers with

10 gauge reinforcing liner at crossbar attachment area.
Full length tarp rail 3" x 2" x 11-gauge tubing.
Bottom plate 3" x 14" with pre-punched holes.
10-gauge front corner angle
Cross bars 1 ½" x 1 ½" x 14 gauge tubing.

Rear Doors: Triple or Double Cargo Doors

Doors feature fully welded unitized 12-gauge frame pre-hung, with cam lock on each door.
3" x 2" x 11-gauge tube swing out header bar.
Heavy duty hinges
Triple door has one metering gate (7" x 15") in each door.
Rear Door Options
Door options to suit your application.  The cargo doors evolved through years of experience in the grain fields.  Not cheap but worth every penny load after load, year in and year out they keep swinging.
OR700 Series Double Cargo Doors
Model OR742
42" high
Doors: Pre-hung, independent, each with cam lock
Frame: Unitized welded steel construction with swing away / removable header
Full Opening: 37 ½" x 87 ½"
Metering Gate: one each door; 7" x 15 ¼" opening
Installation: Bolt to body
Model OR752
52" high
Doors: Pre-hung, independent, each with cam lock
Frame: Unitized welded steel construction with swing away / removable header
Full Opening: 47 ½" x 87 ½"
Metering Gate: one each door; 7" x 15 ¼" opening
Installation: Bolt to body
OR800 Series Triple Cargo Doors
Model OR842
42" high
Doors: Pre-hung, roadside independent; center independent or bi-fold; curbside bi-fold; each with cam lock
Frame: Unitized welded steel construction with swing away / removable header
Full Opening: 37 ½" x 87 ½"
Metering Gate: one center door; 7" x 15 ¼" opening
Installation: Bolt to body
Model OR852
52" high
Doors: Pre-hung, roadside independent; center independent or bi-fold; curbside bi-fold; each with cam lock
Frame: Unitized welded steel construction with swing away / removable header
Full Opening: 47 ½" x 87 ½"
Metering Gate: one center door; 7" x 15 ¼" opening
Installation: Bolt to body
Model OR862
62" high
Doors: Pre-hung, roadside independent; center independent or bi-fold; curbside bi-fold; each with cam lock
Frame: Unitized welded steel construction with swing away / removable header
Full Opening: 57 ½" x 87 ½"
Metering Gate: one center door; 7" x 15 ¼" opening
Installation: Bolt to body