All of our products are built around quality and technology. The New Leader G4 spinner spreader revolutionized the crop nutrient application industry with its wide, consistent spread pattern. Other products such as the MultApplier and MultiBin add-on hoppers allow simultaneous spreading of up to four products, further increasing your return-on-investment.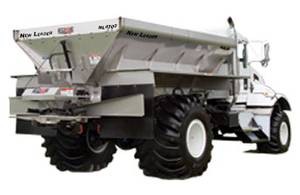 The Edge features precise boundary spreading so you can apply material right up to a boundary line. The machine features increased gate openings and with the Edge with MultApplier insert you can reach higher rates, application speeds and widths. The MultiBin is also available for spreading up to four products in one pass.
The Edge is equipped with an ISOBUS system for easy "plug and play" for standardized connections, cables and software for use with any compatible controller. The system was built using precision manufacturing with laser cutting tech and slot and tab design, which gives the Edge self-centering components such as the spinner frame, material divider and hillside divider.  Precise boundary spreading is a key feature of the NL4500 G4 Edge from Highway Equipment Co.
An upgraded hydraulics system has been developed to support independent spinner speed control for boundary spreading, fast and exact conveyor control and an automatic chain tensioner and the Edge comes standard with automatic lubrication alerts.
Learn more about the G4 technology by visiting highwayequipment.com.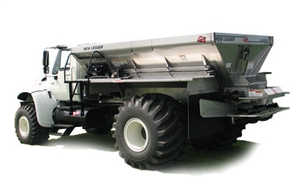 New Leader® L4000G4 is a culmination of the best of the best! The design of the L4000G4 provides modular hydraulic packages to suit your spreading needs, plus the ability to add a second, third or fourth bin at any time with the addition of the MultApplier or MultiBin.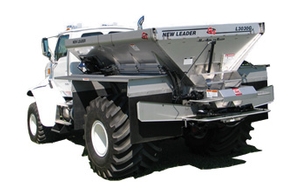 Designed for flexibility and low maintenance, the L3030G4 crop nutrient applicator is the ultimate fertilizer and lime spreader. Spread fertilizer rates as low as 50 lbs. to as high as 1,100 lbs. and still achieve effective spread patterns up to 90 feet. You can even spread up to 2 ton rates of ag lime at 12 mph with spread widths up to 60 feet.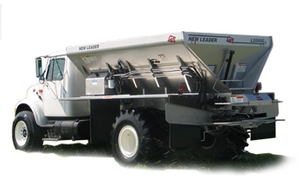 The New Leader® L2000G4 is your reliable and affordable single-bin spreader for applying high rates of fertilizer and low rates of lime. This combination spreader features laser-cut manufacturing with a 304 stainless steel body and upgraded components for straight, semi-float, and full-float trucks.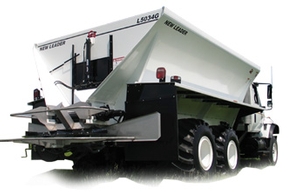 The New Leader® L5034G4 is the best built and most versatile compost spreader in the industry. Its superior features allow you to cover more ground in less time - while maintaining an accurate spread pattern - to make your business more profitable than ever.
The MultiBin Fertilizer & Micronutrient spreader increases efficiencies and reduces operation and maintenance costs by consistently broadcasting materials from three or four bins, independently or together, for straight and variable rate applications.
NL5000 G5 Variable Dry Rate Nutrient Applicator
RIGHT SOURCE • RIGHT RATE • RIGHT TIME • RIGHT PLACE
FEATURES & BENEFITS
PRECISION APPLICATION
16-section swath width control
1/2 width and remote spreading
Boundary spreading
Automatic feedgate and fan frame control
Precise independent spinner control and monitoring
Dual RPM sensors & dual pulse width modulation (PWM) valves for precise RPM on each spinner
Controls of less than 5 RPM difference between each spinner
Hydraulic feedgate controls for height adjustment from the cab
Feedgate optimizer to calculate and automatically set the feedgate
The NL5000 G5 makes it reality, making it easy for operators to not only target the right product to the right place, but also respect the environment without sacrificing productivity. How? A patent-pending spinner design delivers revolutionary left to right and right to left swath width control for never-before-seen spreading precision, which maintains a precision drop point for repeatable product placement. The G5 gives operators the ability to shift the fan frame fore and aft as well as left and right to control the swath. This alters where the product falls onto the spinners while moving through the field. This technology along with adjusting the conveyor speed gives pinpoint accuracy capabilities. Spread materials fast, wide, and with increased accuracy and consistency, with patented G5 spinner technology. Next-level technology gives operators right to left and left to right swath width control for more accuracy in placing nutrients. But the real difference comes from the unprecedented spinner and spinner assembly control in the G5 design, delivering unmatched precision product placement.
EASE OF USE
New Leader user interface
System & product output sensors
Feed gate optimizer
Diagnostic feedback
Complete controller package installed
Automatic feedgate and fan frame control
Experience fast and exact conveyor control, independent spinner speed control and extended conveyor life with the superior New Leader hydraulics system. High-tech sensors give operators early insights into potential issues by monitoring hydraulic condition and performance based on metrics including fluid level, temperature, filter restrictions and conveyor and system pressure. Multiple test ports make in-field service and diagnostics easier. A new anti-cavitation system reduces the vibration and metal erosion that causes hydraulic system failure, and helps quiet the spinners during shutdown.
EASE OF MAINTENANCE
Centralized lubrication
Manufactured to reduce adjustments
Automatic chain tensioner
304 stainless steel cross tubes, mounts, and take-up brackets
Automatic chain oiling
The NL5000 G5 maintains proper chain adjustments with an automatic chain tensioner. Continuous tension helps extend life. In addition, operators receive automatic lubrication alerts after 10 hours of conveyor run time. Built with the operator in mind, the NL5000 G5 simplifies maintenance to maximize time in the field. A flip-up hillside divider lets operators move easily between spreading lime and other products, while maintaining max flow – and without getting out a single tool. Precision manufacturing for fewer adjustments, Corrosion-resistant 304 stainless steel cross tubes, mounts, spinner & feed jack handles and take-up brackets, Front and rear grease banks for efficient greasing, and Automatic chain tensioner to extend conveyor life.
New Leader User Interface
No need to operate multiple displays—the user-friendly New Leader interface makes it easy to get to work without a learning curve. The intuitive, easy-to-use New Leader user interface appears once the system is connected to a virtual terminal. It also incorporates the power of diagnostic feedback, stored profiles, automated service notifications, low bin countdown, automatic chain oiler and more.
Ag Leader-developed plug-and-play ISOBUS technology hooks to any compatible display
Stores up to 25 profiles for quick recall when changing products
Expandable to control multiple bins, tarps, lids and lighting functions
Can I apply more than one product with the G5?
Increase efficiencies and productivity by adding a 5 ft. or 7 ft. MultApplier insert to the NL5000. Adding a MultApplier lets operators spread one or two products simultaneously or at variable rates in one pass. Featuring increased gate openings, the NL5000 G5 with MultApplier can reach higher rates, application speeds and widths. For the addition of micronutrients, the MultiBin is also available, for spreading up to four products in one pass. Additionally, the improved waterfall divider and matched-rate output of the MultiBin is now standard on the NL5000 G5 and supports even higher rates of output. That means more flexibility for a wider variety of micronutrient applications.