Duo Lift Nurse and Cone Bottom Trailers

Models: DC6050, TD-500, TD-710, TD-1000E, TD-1200, TD-1600, TD-1610, TD-1625, TD-1635,  TD-1700

Tank Sizes: 500 - 1700 gallons

Capacity: 16000 - 23000 G.V.W.R.

Brakes: 2- wheel or 4-wheel hydraulic or electric

Hitch: adjustable height clevis

Frame: 7" Structural Channel

Other Options available to meet your Specifications

We have several trailers in stock.  Call us today!
Duo Lift Head Hauler Trailers
These Head Hauler Trailers have a heavy duty frame and tapered gooseneck with torque tube which provides a solid platform for high speed hubs, wheels and tires. Two 3/8" safety chains a 3/8" ball coupler and lockable sickle bar storage come standard.
Head Hauler Models:
(Number and model are lengths of header bar)
DL27 or DL27LT
DL32 or DL32LT
DL37 or DLT37LT
DLT42 or DLT42LT
DLT47LT
Choose from the following optional features to meet specific needs:
Blue, Green or Red Frame Paint
Torsion Axles
Electric Brakes
Ag Lights
Steel Fenders
2 5/16" Ball Coupler, 3" Lunette Eye
Center Header Bar Support for DL32 or 37
Draper Chocks
E-Z Hook Up Tongue
Adj. Length Tongue
Spare Tire & Carrier
Bolt On Storage Basket
Tongue Jack
DOT Compliant Package Includes: Lights, Brakes, Fenders, Conspicuity Tape, Splash Guards and Bumper According to Federal Code CFR4
Duo Lift Seed Tender Trailer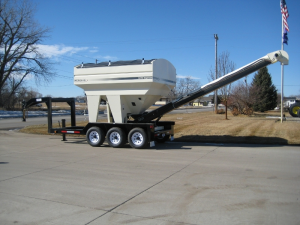 TDE300GN Triple Axle Gooseneck Hitch Seed Tender Trailer (Seed Tender Not Included)
The Duo Lift TDE300GN Seed Tender Trailer is a 24,000lb. GVWR trailer for units with up to 300 bushel or 375 seed unit capacity. Forward or Rearward mounting provides versatility and highway fenders, mud flaps and DOT approved lights and safety chains make rolling down the highway a breeze. The triple 7,000 lb. torsion axles with electric brakes ensure stability and stopping power.
Trailers are primer coated and painted black standard. Choose from optional colors: blue, green or red colors.