GIANT D254SW
EXTREME MANEUVERABILITY
The articulated pendulum joint provides extreme maneuverability, accuracy and off-road mobility
150+ ATTACHMENTS
GIANTs can improve your versatility and limit the need for multiple machines. Change your attachments quick and safe with our universal mounting systems.
QUALITY
Thanks to state-of-the-art technology, continuous development and the best quality components of Kubota, Bosch Rexroth and Comer, TOBROCO-GIANT machines are reliable and highly productive.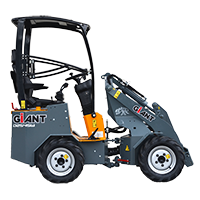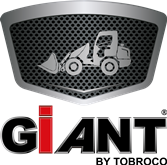 GIANT D254SW
'Compact powerhouses' - the D254SW series can be described this way - are characterized by a very compact construction, allowing high maneuverability in urban areas and gardens. With an operating capacity of at least half its own weight, this machine is a force to be reckoned with.
Hitch: Mini-skid universal (mechanical)
ROPS / FOPS safety roof with safety doors left and right
Double acting hydraulic function on lifting arm(mechanical)
Single-side hydraulic hold on function
Floating position on lifting cylinder(s)
Luxury seat with safety belt, armrest and extended backrest
Case drain connection at the front
Acoustic back-up alarm
Main battery switch
Oil cooler
Lifting eyes
Work light mounted on boom
Counterweight at rear 155 lbs.
Specifications:
Engine: 3-Cylinder Kubota Engine
Engine power: 24 HP / 17.5 kW
Fuel: Diesel
Service weight1: 2,420 lbs. (1,100 kg)
Lifting capacity: 2,420 lbs. (1,100 kg)
Tipping load2: 2,400 lbs. (1,000 kg)
Lifting height2: 85.4 in. (2,170 mm)
Length without bucket: 86.6 in. (2,200 mm)
Width on standard tires: 36.2 in. (920 mm)
Driving mechanism: Hydrostatic 4 wheel drive with automotive control by 4 heavy Poclain wheel engines
Control: Drive back and forward through electrical switch
Differential lock: Electric controlled slip differential
Driving hydraulics: 17.2 GPM (65 ltr/min) 5,000 psi/350 bar
Working hydraulics: 7.4 GPM (28 ltr/min) 2,175 psi/150 bar
Driving speed: 0-9.5 mp/h (0-15 km/h)
Parking brake: Hydraulic multidisk brake
Colour: GIANT yellow / GIANT grey / black
1 Measured with earthbucket
2 Measured on hinge point in straight position on standard tires