Freightliner 108 Severe Duty 4x4
MODEL: 108SD 4X4
ENGINE: CUMMINS L9
ENGINE HP: 370 HP
TRANSMISSION: ALLISON 3000RDS
AUX. TRANS / TRANSFER CASE: YES
RADIATOR: 1200 SQ. INCH ALUMINUM
FRONT AXLE: 23,000 LB.
FRONT SUSPENSION: 20,000 TAPER LEAF
STEERING: DUAL GEARS
REAR AXLE: 30,000 LB
REAR SUSPENSION: 30,000 FLAT LEAF W/HELPER
FUEL TANK: 110 GALLON POLISHED ALUMINUM
AIR COMPRESSOR: CUMMINS 18.7 CFM
Standard on our chassis:

Air-ride cab
Premium cab insulation
Premium High-Back Air
Seats
Cruise control
Adjustable tilt and telescoping steering column
Premium interior package.
AM/FM/WB radio w/CD player
LED light package

High-capacity Donaldson Air Cleaner
Air Dryer w/ Heater & Governor
Eng. Block Heater
Fuel/Water Separator w/Heater
Full gauge package
Remote & Heated Mirrors
Dual Roof-Mt Amber LED Strobe Lights
Electric Door Locks & Windows
Please call for quote on your liquid or dry unit. Options available.
MODEL: M2-106 4X4
ENGINE: CUMMINS ISL 350
ENGINE HP: 350 HP
TRANSMISSION: ALLISON 3000RDS
AUX. TRANS / TRANSFER CASE: YES
RADIATOR: 1100 SQ. INCH ALUMINUM
FRONT AXLE: 16,000 LB.
FRONT SUSPENSION: 16,000 TAPER LEAF
STEERING: SINGLE GEAR
REAR AXLE: 26,000 LB
REAR SUSPENSION: 26,000 FLAT LEAF W/HELPER
FUEL TANK: 100 GALLON POLISHED ALUMINUM
AIR COMPRESSOR: CUMMINS 18.7 CFM
Standard on our chassis:

Air-ride cab
Air dryer
Block heater
Transfer case oil cooler
Front tow hooks
Stainless steel West-Coast mirrors
8" Stainless steel spot mirrors
63 x 14 inch tinted rear window
Electric powered windows & locks

Premium cab insulation
Adjustable tilt and telescoping steering column
Full gauge package
Cruise control
AM/FM/WB radio w/CD player
Front aux. input
Overhead console with CB radio with face plate
LED marker light package
Premium interior package.
MODEL: M2-112
ENGINE:  CUMMINS L9
ENGINE HP: 370 HP
TRANSMISSION: ALLISON 3000RDS-6 SPEED W/AUTO-NEUTRAL
AUX TRANS / TRANSFER CASE: YES
RADIATOR: 1300 SQ. IN.
FRONT AXLE: * ** 20,000 LB.
FRONT SUSPENSION: 20K TAPER LEAF
STEERING: DUAL GEAR BOX
REAR AXLE: AXLETECH PLANETARY 2-SPEED
REAR SUSPENSION: 40, 000 LB.
FUEL TANK: 6100 GALLON POLISHED ALUM.
AIR COMPRESSOR: CUMMINS 18.7 CFM
Standard on our chassis:

Air-ride cab
8-inch front frame extension
Air dryer w/heater
Block heater
Water to oil trans. cooler
Dash-mounted push button electronic shift control
Fuel-water separator
Dual air horns
Electric door locks and power windows
Dual west coast mirrors
Dual stainless steel 8" convex mirrors
63 x 14 inch tinted rear window

Operating wing windows
Center storage console on back wall
Adjustable tilt and telescoping steering column
4-spoke 18" steering wheel
Full gauge package
AM/FM/WB radio with CD player
IPOD interface
USB and front aux. inputs
Overhead CB console
LED light package
Premium interior package
OPTIONS
* FULL HYDRAULIC STEERING FRONT AXLE w/Raven Smart Trax 3D auto-steer
MODEL: T470
ENGINE: PX-9
ENGINE HP: 370 HP
TRANSMISSION: ALLISON 3000RDS -6 SPEED
AUX. TRANS / TRANSFER CASE: YES
RADIATOR: 1000 Sq. In. Clogless
FRONT AXLE: * 20,000 lb.
FRONT SUSPENSION: 20k taper leaf w/shock absorbers
STEERING: DUAL TRW GEARS
REAR AXLE: AXLETECH PLANETARY 2-SPEED
REAR SUSPENSION: 31k w/16 multi-leaf
FUEL TANK: 60 gal. DS & PS
AIR COMPRESSOR: Cummins 18.7 cfm
Standard on our chassis:

Engine mount Power core air cleaner
Heated fuel/water separator
Engine block heater
Full gauge package
Heated Bendix AD-IS air dryer
Electric DS & PS door locks and power windows
DS & PS West-coast stainless steel heated mirrors

Stainless steel DS & PS 8 inch convex mirrors
17 x 36 in. rear window
DS & PS 17-1/2 x 16 in. corner cab windows
AM/FM/WB/CD/USB/Bluetooth radio
Overhead CB console
Premium interior package
LED light pkg
OPTIONS:
* FULL HYDRAULIC STEERING FRONT AXLE w/Raven Smart Trax 3D auto-steer
Kenworth 4x4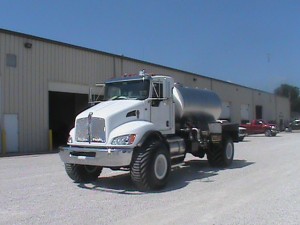 MODEL: T370 4X4
ENGINE: Cummins-made for Paccar PX-9 350
ENGINE HP: 350HP
TRANSMISSION: ALLISON AUTOMATIC 3000RDS 5-SPEED
AUX. TRANS / TRANSFER CASE: YES
RADIATOR: 1000 SQ. INCH
FRONT AXLE: 16,000 LB.
FRONT SUSPENSION: TAPERLEAF SPRING W/ SHOCK ABSORBERS
POWER STEERING: DUAL GEAR
REAR AXLE: 26,000 LB.
REAR SUSPENSION: REYCO 79KB MULTILEAF
FUEL TANK: 75 GAL. POLISHED ALUMINUM
AIR COMPRESSOR: CUMMINS 18.7 CFM
Standard on our chassis:

Block heater
Heated Bendix AD-IS air dryer
Full gauge package
Premium interior package
DS & PS stainless steel heated West coast mirrors
8-1/2" DS & PS Stainless steel convex mirrors
17 x 36 inch rear window

DS & PS 17-1/2 x 16 inch corner cab windows
Electric door locks and windows
Adjustable telescoping tilt steering column
18 in. 4-spoke steering wheel
Glove box door with lock
LED light package
2-tow hooks